Size Guide
RING SIZE GUIDE
MEASURE CURRENT RING
1. Select a ring that properly fits the intended finger
2. Place the ring over the nearest matching circles below. Match the inside edge of the ring to the circle nearest in size.
3. If the ring size falls between two circles, order the larger size.
4. Double Check sizing for accuracy.
Still Unsure?
While this method is a good guide, you can avoid resizing issues by visiting Jewels De Oro for a personalized size assessment. 
Is It a Surprise?
Ask your significant other's friends or family if they know her finger size. Borrow one of her rings (from the correct finger) and use the ring measurements below to determine the correct ring size.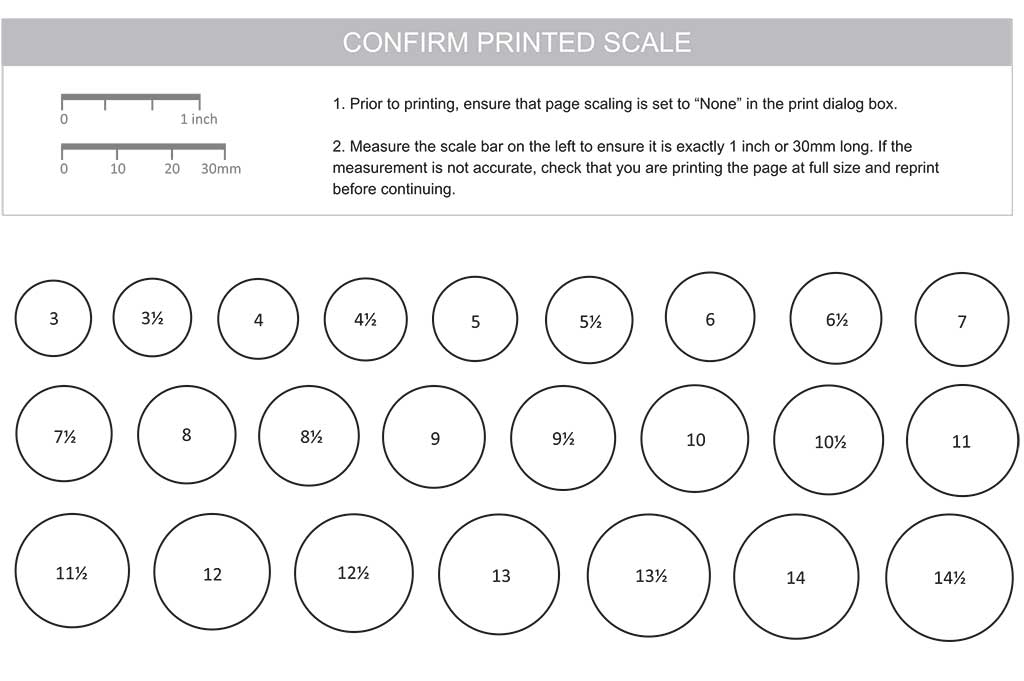 BRACELET SIZE GUIDE


Most popular bracelet size for woman is 7 - 7.5 inches and for men size is 8- 8.5 inches.
You may also need to consider bracelet style.  Some bracelets are adjustment and some cannot be resized. 
| | | |
| --- | --- | --- |
| Wrist Size Inches |  Bracelet Size Inches | Bracelet Size Centimeter |
| 6.00 | 6.50 | 16.50cm |
| 6.25 | 6.75 | 17.15cm |
| 6.50 | 7.00 | 17.75cm |
| 6.75 | 7.25 | 18.50cm |
| 7.00 | 7.50 | 19.00cm |
| 7.25 | 7.75 | 19.75cm |
| 7.75 | 8.25 | 21.00cm |
| 8.00 | 8.50 | 21.50cm |
| 8.25 | 8.75 | 22.25cm |
| 8.50 | 9.00 | 23.00cm |
Chain Size Guide


Common popular chain size for woman is 18 inches and for man is 20 inches